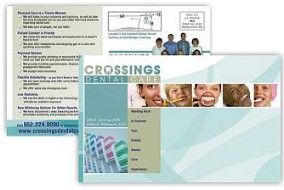 They're highly effective, very low-cost, simple to use ...and they work for any business. You're overlooking a profitable marketing tool if don't use them.
1. Postcards are Effective for Any Business
All kinds of activity can be generated using postcards, and for all types of businesses. As a traffic builder, they can generate floor traffic in a retail store, website traffic, and restaurant traffic, to site a few.  They generate leads for direct sales, attract donors for fund raisers, or d just about any other type of activity you may want.
2. Postcards Deliver Results Fast
They are simple, user friendly, and they deliver results fast. You can get postcards out the door quickly, and you'll start seeing results 2 or 3 days later.
3. Postcard Design is Easy
An effective postcard design is basic.  Think of it as a small ad on an index card to be sent to a list of potential prospects. For best results, the postcard should look friendly, and the message should be brief.  Remember, keep it simple.
4. Postcards are Hard to Miss
Because there is no envelope to open, postcards get eye ball time.  Even people who usually process ad mail directly to the trash bin will see the postcard as it passes.  A good graphic can often attract a closer look.
5. Postcards have no delete button.  Emails are often deleted en masse without ever being opened.  At the very least, a postcard will be seen.
6. Postcards are Easy and Inexpensive to Print
You can DIY for pennies, or have them done professionally and save your printer cartridges.  Either way, it is a low cost alternative.
7. The Postage Rate for Postcards is Economical
You can send postcards first class mail in the US for just 35 cents.* Postcard sizes must be a minimum of 3.5" x 5" and not exceed 4.25 x 6." *(Check with USPS for current rates)
8. Postcards are Great for Targeting Markets
Target your best markets with mailing lists of prospects likely to be interested in what you have to offer.  You can zero in on the best prospects to deliver the highest return and minimize wasted mailings to non-prospects.
9. Postcard Have a Good Shelf Life
Postcards are like small billboards - and they are a handy size. They often get posted on the fridge, or shared with others. That is more free exposure for your message.
10. Postcard Marketing is Measurable
Postcard campaigns will usually deliver the bulk of their results in 7 to 10 days, so you can accurately evaluate the results of a postcard campaign.  Add to that a tracking element and you know exactly how effective the campaign was.  More importantly, you learn what works, what doesn't, and how to adjust for maximum ROI.
11. Postcards are Interactive and Mobile
An eye catching graphic, a few benefits of a product or service, and a QR code on the card and the reader can get more information on their mobile device. They are ideal for generating traffic to a web site or to social media.