The pandemic has introduced us to social distancing, and it is likely to be with us for some time.
Safety is the top concern for everyone, and during this time of social distancing businesses are required to follow certain guidelines.  Why not make the best of the situation by using your social distancing signs, graphics, and even PSE (personal safety equipment) as part of your branding and marketing strategy.  Show the public that caring is part of your brand. 
At Minuteman Press we can customize your graphics, even in quantities that will fit into a small business's budget.  That is important as we all try to recover from the effects of the COVID pandemic.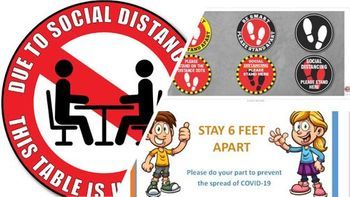 Floor graphics
Wall graphics
Window graphics
Signs and posters
Face masks
Face shields
Sneeze guards