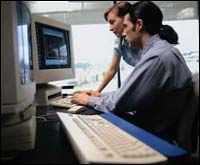 We believe that your business is our business and that if you succeed, we succeed. That philosophy is at the center of everything we do. It is why we work so hard to deliver the highest quality products and services on time and within budget. It is why we strive to deliver a superior level of service, quality, and value on every single job.
We love what we do. There is no greater satisfaction than delivering finished products that helps our clients reach their business goals and objectives. Every day we take ownership of our customers' projects and see them through from concept to completion.
In its most basic form, our business is really customer service. We strive to meet and exceed your expectations. Printing, graphic design, and mailing services just happen to be the medium we use to provide the superior level of service our clients have come to expect.
Mission Statement
Our mission is "Helping you look good on paper..."
That means providing you with high quality products and services in a timely fashion and at a competitive price. We do everything we can to make sure your printed image makes you look good, and that your bottom line looks good too.
We promise to listen to you and help you achieve your business goals. We will always be there with honest, expert advice and quick, friendly customer service.
Our goal is to meet and exceed your expectations.
Business and community have a special relationship, or at least they should. We feel it is our responsibility to do what we can to help our community prosper, and we work hard to offer solutions for all of your business communication needs. As advances in technology help to improve efficiencies that save you money, we are committed to investing so that we can bring you ever greater value.
We will continue to evolve as a team of professionals striving to learn better ways to meet whatever challenges our clients may face. We launched this website to make it easier for our clients to request estimates, place orders, check proofs, or transfer files online. We hope you find it as helpful as we do.
"Helping you look good on paper..." Others may say it, but it is what we do every day.